Generally I do NOT like shopping and I am beginning to think it is because I need a "theme" when I shop.
(Is it the designer in me that needs a theme? Hmmm)
So, that being said—I had a BLAST putting my unofficial bridesmaid outfit together. It really helped me to have a visual goal in mind.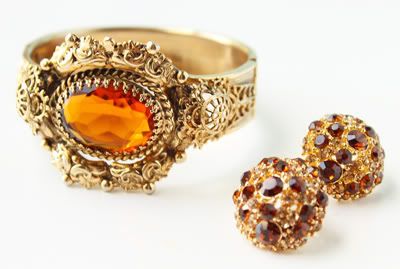 Above is a bracelet my grandma was going to throw away (this is when I was around 8 or 9 years old) but she gave to me instead. For years I thought it was the ugliest thing—but could never get rid of it. Now I am so glad I kept it!
Then I started searching for a matching necklace...but it dawned on me that I could make a fascinator to match instead! It turned out perfect.
(Below)
And the earings
(Above)
were the last to be added.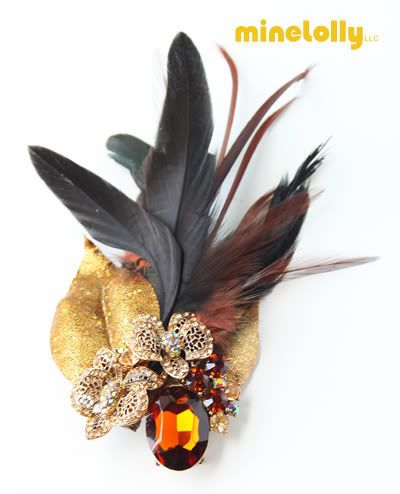 Then I got lucky and I found these shoes two days before the wedding! I never thought I'd have a pair of gold shoes...but I LOVE them!
(Guess brand.)
I tried to capture other accessory details at the wedding, those will be posted soon! (Have I used enough exclamation marks yet?)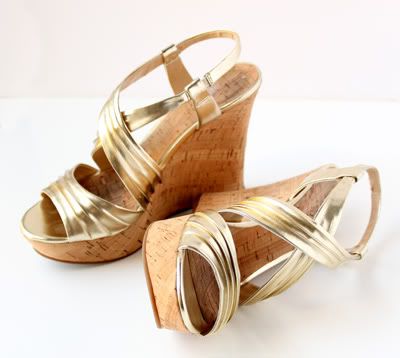 Do you have a blast putting together you're special occasion outfits? Did you discover something sitting around the house that suddenly worked out perfectly? Send it in and we'll share it on the blog!
Gold shoes, gold wedding, vintage wedding, metallic colors, gold vintage accessories